Your Dog Urine Problems SOLVED – GUARANTEED!
⭐⭐⭐⭐⭐ 4.7 / 4,376 reviews
HOW PupCare Pee Pad Solves Your Dog Urine Problem?
Now you can bring the heat whereever you are
PupCare Reusable Puppy Pad has four layers that work together to prevent leakage and trap odors. Its soft and comfy texture makes your pet use it naturally. The soft material and distinct pattern help your dog recognize the pad.
Training might be required for your pet to actually pee on it. If your dog is still a puppy, there are various ways to train her. The most popular method is to anticipate when your puppy needs to potty (normally 5-20 minutes after a meal) and place her on the pad. After she's done her potty on the pad successfully, reward her with a treat. Use positive gestures to cheer your dog. Place the pad in the corner where your pet can easily locate it. After a couple of repetitions, your puppy should know how to use the pad by herself.
Use it at home to avoid urine odors. Use it inside your car to protect your car seats. Use it for pet transport. Use it wherever you and your pet go.
Reusable Puppy Pad gives you:
- A Clean House
- A Clean Car
- A Happy And Healthy Furry Buddy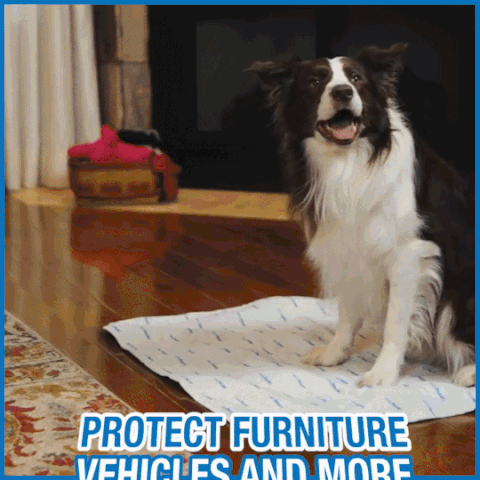 LOVE & TRUSTED BY THOUSANDS OF CUSTOMERS
DON'T JUST TAKE OUR WORD FOR IT...

Even though they are well potty trained now these are useful for our dogs because they can lay on these and chew their bones or treats and not make a mess on the bed, couch , floor, etc. Also the cat lays on one on the couch & it keeps his fur from getting all over the couch. These are a generous size & have a cute print on them and our animals like to lay on them . I wash them on the gentle cycle but air dry them . We also have used these inside to sit on while in wet bathing suites when taking a short break from the pool and planning to go back in it shortly to keep the furniture dry .

All as in the description. This is a very cool mat and I love it! Works for my puppy and kitty. They love to lie down on it!

Best dog mat ever. Absorbs liquids quickly and dries almost immediately. Plus offers enough padding for my senior baby Boo to snuggle into.

These mats helps save money and time. I use far less pee pads and spend far less time scrubbing the bottom of the cage! Washes well.
My puppy spends more time out of the cage than she does in so they are not being heavily used. She probably spends a total of 8 hours or less a week in the cage, but I'm sure these would hold up for dogs who spend more time in the cage. These seem to be holding up well so far after having them for a month and washing them several times.

LOVE THESE PADS!! They fit in our puppy's new crate perfectly and they wash well. The puppy training pads didn't work for us as the attractant in them caused Bella to go to the bathroom in her crate (which is counterproductive when crate training) and she would shred the urine soaked disposable pads for fun. Not a good time to clean and dangerous for her if she decided to eat the plastic/cotton material. Being a puppy, and not an especially bright one, I was concerned about the safety risk the pads posed to her. These pads were the perfect solution. They wash nicely and dry quickly in the dryer with no shrinkage. More importantly, Bella doesn't chew them. They're not especially attractive, but they get the job done for what I think is a reasonable price.
Why Choose PupCare Reusable Dog Pee Pad

Fun Fact: Buying 1 PupCare Pee Pad helps you save more than 200 sheets of disposable pads!
Since this Reusable Puppy Pad is washable and can be reused as many times as needed, this means that you can SAVE MONEY from buying disposable pads over and over again.
With its four absorbent layers of protection, it won't leak wherever you put it so you can be assured that your furniture, floors, and car seats are protected!

This is also the perfect product for potty training, sleeping, and traveling with your pet.
This amazing product is also great at retaining odor so you can now say goodbye to a smelly room!
Rest assured that this MUST-HAVE item will definitely change the way you rock as a fur parent!
Choose Your PupCare Bundle Now
Can these be used for cats and other pets?
Yes! You can use it for any of your furry pets.
Can hair & dirt stick to the pad?
No it won't stick to the pad. Our product has a soft texture which makes fur easy to brush off.
Does pee soak in right away or sit on the surface?
The pee will soak in right away, preventing pee marks on the floor or huge pee puddles that we don't want to step on.
Try PupCare Completely
RISK-FREE
We have an iron-clad risk-free guarantee. If you aren't satisfied with your product for any reason, you have up to 30 days after receiving your product to contact us and ask for a full refund.


Shipping & Handling

We provide Free Worldwide Shipping.
Please allow 3-5 days for handling due to high demand.
Even More Reviews From Truested Our Customers...