THE ULTIMATE SOLUTION to Reach Your Car Roof EASILY!
⭐⭐⭐⭐⭐ 4.7 / 4,376 reviews
Now you can bring the heat whereever you are

With HandyWorks Car Step Tool's innovative design, you just need to hang it or hook it directly on the door frame lock of your car to install it.
You can then step on this secure and reliable loading essential to access your car roof easily.
This very useful tool can beused for your outdoor activities such as kayaking and biking, for cleaning your cars, and for traveling.
It can also be used as an:
- Anti-slip device for tire
- Emergency window breaker
- Seatbelt cutter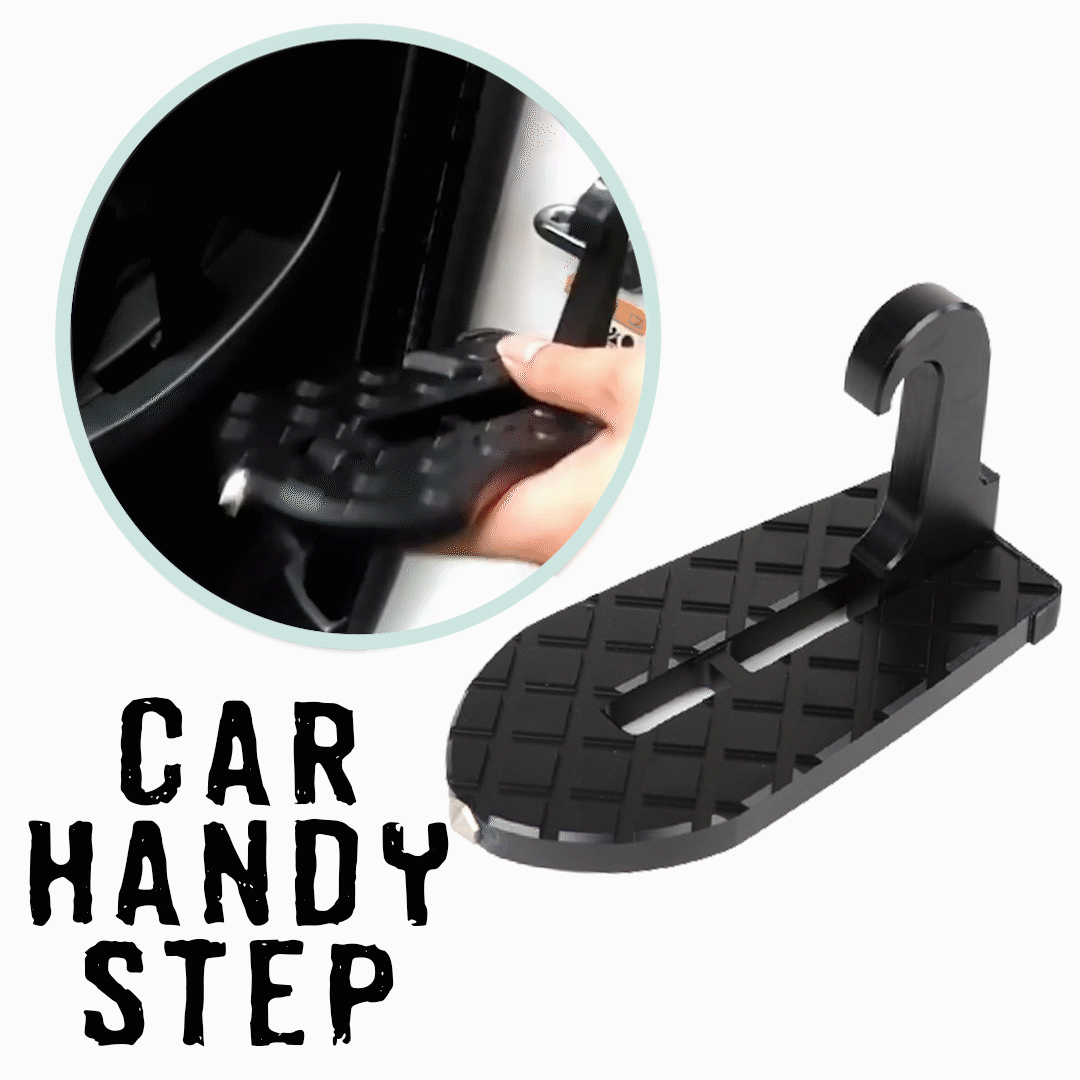 LOVE & TRUSTED BY THOUSANDS OF CUSTOMERS
DON'T JUST TAKE OUR WORD FOR IT...

Wow! I have been carrying around a mini ladder to get my kayaks on top of my 4 runners. I bought two of these and it is one of the best purchases I have ever made. These little steps are so easy to use and are sturdy even when I am standing in them in flip flops. They allow me to stand high enough that my waist is at rooftop height allowing me to have two hands and all my upper body strength to pull my kayaks up. Thanks to these I can load two by myself or with minimal pushing assistance from my 10-year-old son.
They should pop up on the internet at the top of the search list for loading essentials. No more balancing on your seat and back tire awkwardly trying to balance and pulling up your things while scratching your car. Those days are gone with this cool step.

This thing is very nice to have. It doesn't scratch your car or slip around and feels very stable standing on it. I have big feet and only fit one foot on it. I mainly use it to secure kayaks to the roof of my car. The fact that it's so small and can be easily stored this is a great product to have!

This is as simple a solution to a problem that there ever could be. In other words, it is BRILLIANT! I have a 2018 RAM 3500 Crew Cab Diesel Dually with a roof rack. It is the size of an elephant and I am a whopping 5'4". Accessing the roof rack is easy peasy with this doorstep. It is sturdy and secure. A complete no-brainer if you need to be about 2 ft. taller than you really are, LOL.

This is a must have tool for larger SUV's,I bought this for a 2020 Honda Passport Elite.To wash and wax the roof is impossible without a ladder. The Rightline Gear Moki Door Step is easy to use and a lifesaver to get to the middle of the roof. This is one of the greatest inventions for reaching roof areas without having to use step stools or ladders. I highly recommend this steps sit works perfectly every time.
Why This Car Step is a Must-Have

Do you have a hard time reaching your car roof? Are you tired of having to ask for help when cleaning your car or doing other activities that require reaching the top of your vehicle?
You don't need to worry anymore. With this handy tool, you can reach the top of any vehicle with ease!

The Handy Car Step Tool is an essential item for everyone. It comes with an innovative design and it's very easy to use.
This tool will make loading/unloading your things easier and faster than ever before!
Plus, it has multiple uses and is a very convenient tool that can be folded so you can take it everywhere with no hassle at all!
Choose Your HandyWorks Car Step Bundle Now
How much weight can this hold?
The weight limit of the Car Step Tool is 400 lbs.
Will this fit a Cadillac XT5?
Yes, it will. This step has a universal fit for all vehicles in both front and rear doors..
Can this be used on the sliding door of a honda odyssey minivan?
This is designed to hook on to a vehicle's U-shaped door latch. As long as there is a U-shaped latch to hook on to and the doorstep sits squarely, it should work.
Try HandyWorks Completely
RISK-FREE
We have an iron-clad risk-free guarantee. If you aren't satisfied with your product for any reason, you have up to 30 days after receiving your product to contact us and ask for a full refund.


Shipping & Handling

We provide Free Worldwide Shipping.
Please allow 3-5 days for handling due to high demand.
Even More Reviews From Truested Our Customers...